Meribel Airport Transfers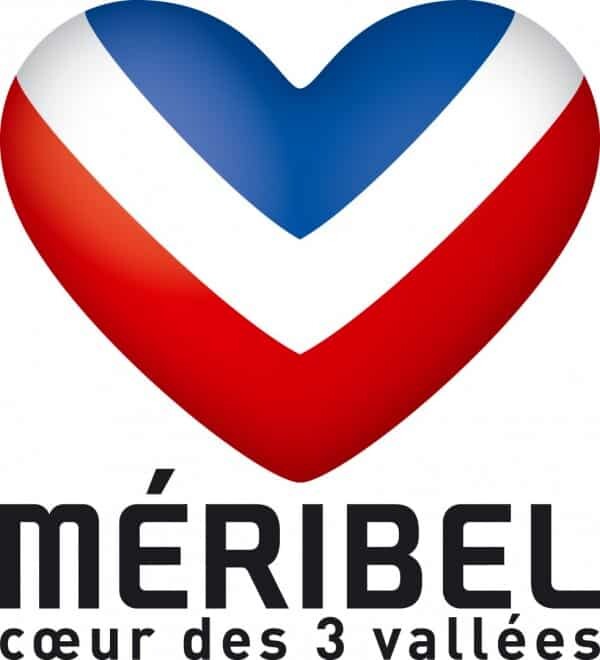 Meribel Transfers are available from 3 different airports with Ben's Bus. Our network of shared transfers include shuttle buses from GENEVA Airport to Meribel. This service also stops at Mottaret, Les Allues and Brides Les Bains. From Grenoble Airport and Lyon Airport, our shared shuttles only go as far as Moutiers, the village on the valley floor. Visit our GRENOBLE Airport to Moutiers or our LYON Airport to Moutiers pages for tips on how to get from Moutiers to Meribel.

AIRPORT TRANSFERS TO MERIBEL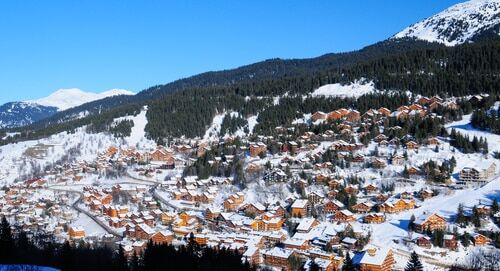 Geneva to Meribel airport transfers run on week-ends during the winter ski season. Our buses operate from 9th December 2023 – 13th April 2024, depending on which airport you use. We operate many shuttles each day and we usually transport passengers in large coaches, which means cheaper fares and less environmental impact. With our discounts for groups and children, our prices start from just over £83 Return.


CLOSEST AIRPORT TO MERIBEL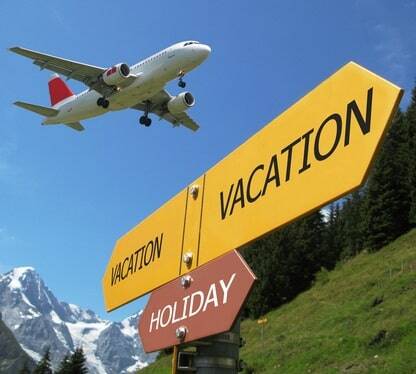 Chambery is the closest airport to Meribel with the shortest transfer time. However, it is now mainly used as a charter flight destination. For a greater choice of airlines and flights, consider Geneva Airport, Lyon Airport or Grenoble Airport. The transfer time depends on the traffic and weather. With our years of experience, we know when to allow extra time for the journey when the travelling conditions may be difficult, such as during the French school holidays. Meribel is towards the of the D90 mountain road.


Geneva Airport to Meribel is 135 km. The transfer time is about 2 hours 45 mins. A Return costs from £83.10pp.
Get directions from Geneva Airport to Meribel


Lyon Airport to Meribel is 178 km. The transfer time to Moutiers is about 2 hours 10 minutes and costs from £71.25pp.
Get directions from Lyon Airport to Meribel


Grenoble Airport to Meribel is 168 km. The transfer time to Moutiers is about 2 hours and costs from £71.25pp.
Get directions from Grenoble Airport to Meribel

Chambery airport to Meribel is 102 km from Meribel. The transfer time is about 2 hours.
Get directions from Chambery Airport to Meribel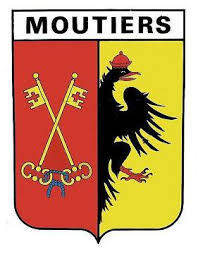 Moutiers Coach Station is 17 km from Meribel and the transfer time is about 40 minutes.  If you are arriving from Grenoble Airport or by eurostar, we'd recommend the local Meribel public buses or a private taxi for onward travel from Moutiers.
BUS STOPS IN MERIBEL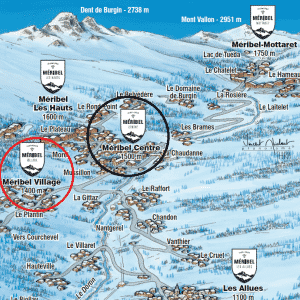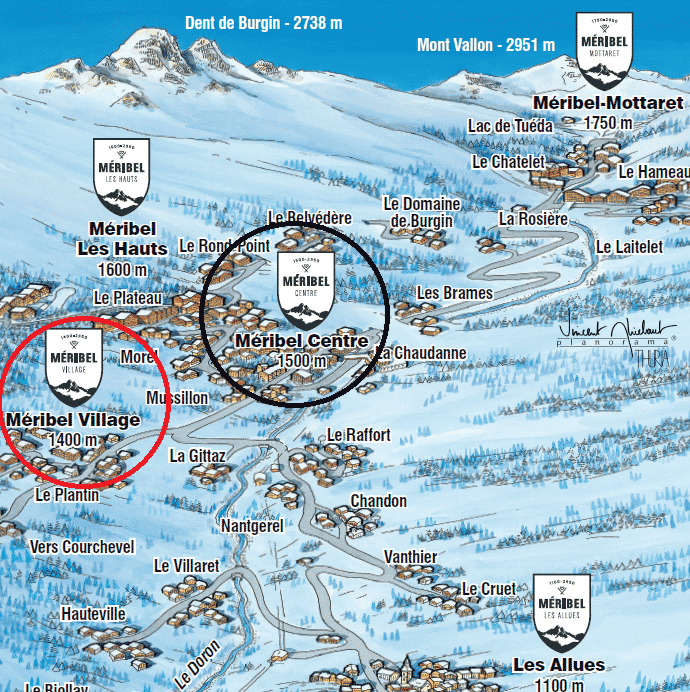 Our transfer service from Geneva Airport makes stops at Meribel (1500m) and at the much smaller resort of Meribel Village (1400m). These are 2 different 'resorts' and separated by a few kilometres of road. Please ensure you select the correct resort when you book with us! Your accommodation can confirm which Meribel resort you are staying in.
The map to the left shows the entire Meribel valley. Click on the image to see a larger version. The Tourist Office map of the resort can also help you find out where our stop is in relation to where you're staying. From all of our stops, you can take the free in-resort shuttle buses to most accommodations in Meribel.
Below you will see a more detailed map of each of our stops. Click this link to find out about the Meribus, which is the free in-resort shuttle bus.
Meribel Bus Stop
Our Geneva Service uses the 'Les Ravines' bus stop which is on the Route Albert Gacon (D90) a little after the Ice Rink complex if you are coming down from Mottaret. You should see a roundabout near to the bus stop. See our Meribel stop on googlemaps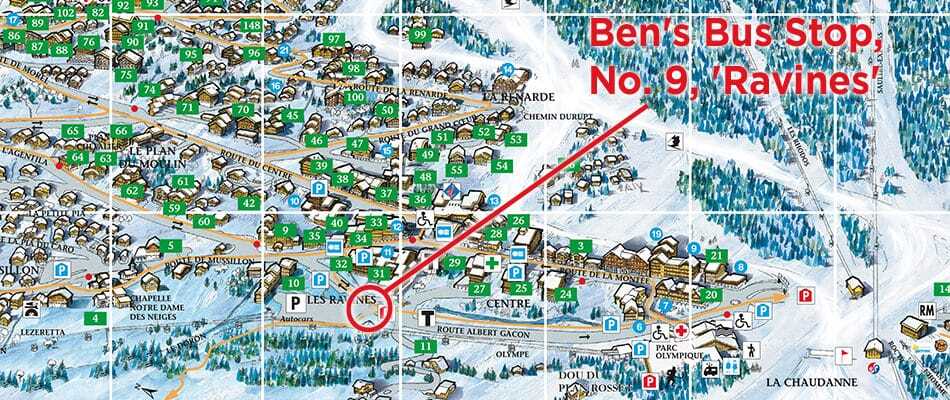 Meribel Village Bus Stop
At the bus shelter, with the yellow post box on it on the roundabout in Meribel Village. See our Meribel Village stop on googlemaps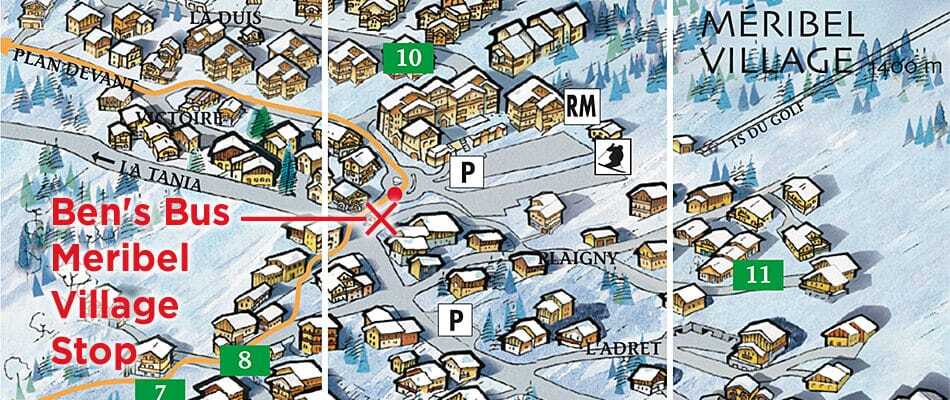 MERIBEL SKI RESORT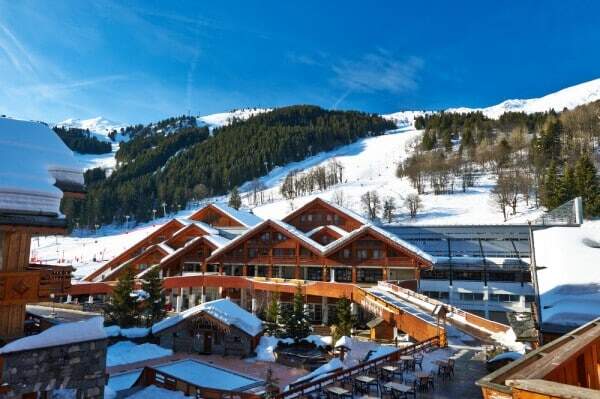 Meribel is the largest and best known of all the resorts in the valley. Its' little sister, Meribel Village is located a few kilometres further down the valley. Our service from Geneva Airport can stop at both of these resorts. It has an all round appeal due to its authentic mountain architecture, good stock of bars and restaurants and great facilities and amazing skiing.
Meribel is part of the enormous 3 Valleys ski area which offers over 600km of marked runs and is serviced by 200 ski lifts. It has 49 black runs, 175 reds, 207 blues and 66 greens. As a result the area is suitable for all types of skiers. If you buy a 3 valley ski pass, you can also access the slopes in the Val Thorens and Courchevel valleys and 2 glaciers, which means your ski holiday is snow-sure.
MERIBEL TRANSPORT, TOURISM AND WEATHER INFORMATION

We believe we offer the cheapest Meribel Airport Ski Transfers from Grenoble, Geneva and Lyon Airports.

Resort Information: Explore the Meribel Tourist Office website or Meribel Unplugged.

Weather & Snow: View the latest Meribel snow report, Meribel weather forecast or just look at the live Meribel webcams.

Pistes Maps: Try here for a piste map of the 3 Valleys or click here for a Meribel Piste Map.

Car Hire: Remember to add on the cost of snow chains, petrol, tolls, parking in resort and the insurance excess.

Visit the office websites for Geneva Airport, Lyon Airport, Grenoble Airport or Chambery Airport for information about the airports.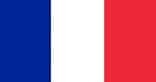 Nous avons une version française de ce page – Navette aéroport Méribel