Geneva Airport to Brides Les Bains transfers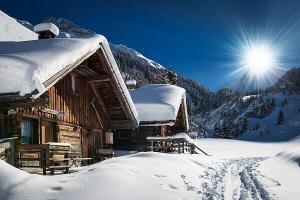 Geneva to Brides Les Bains transfers operate on Saturdays, Sundays and some weekdays during the 2021 / 2022 ski season. This is our 13th year selling low cost transfers to Brides Les Bains from Geneva Airport. Our network also covers shuttles from Grenoble Airport to Moutiers and Lyon Airport to Moutiers. We are the cheapest ski transfers on the market and our dedicated staff ensure a reliable, quality and timely service. We generally transport passengers in coaches, which reduces the environmental impact of your journey.

GENEVA TO BRIDES LES BAINS TRANSFERS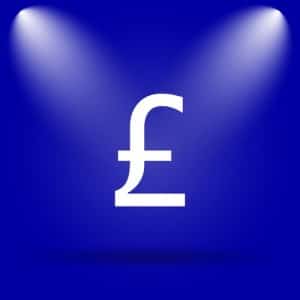 A shared ski transfer from Geneva Airport to Brides Les Bains with Ben's Bus will cost you £95 for a Return and £52 for a Single. With our discounts for groups, you could pay as little as just over £79 Return, £43 Single! For the service we offer, we think that's amazing value for money. Click on the image above to get an Instant Quote for your group in just a few seconds or take a look at our Prices Page. We're sure you won't find a cheaper way of getting from Geneva to Brides Les Bains.
TRANSFER TIME FROM GENEVA AIRPORT TO BRIDES LES BAINS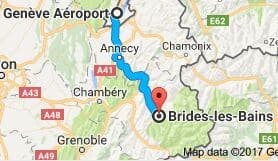 The distance from Geneva Airport to Brides Les Bains is 124km and the transfer time is about 2 hours 20 minutes. This obviously depends on many factors, such as the weather and traffic, but with over 15 years experience, we know when to allow more time for the journey. Our vehicles usually take the most direct route from Geneva to Meribel, stopping at Brides Les Bains en-route. We normally take the A41 motorway and then N90 national road, before climbing the D90 mountain road to Brides Les Bains. We have 5 well timed buses most Saturdays. Expand the section TIMETABLE below to see more details.
BRIDES LES BAINS BUS STOP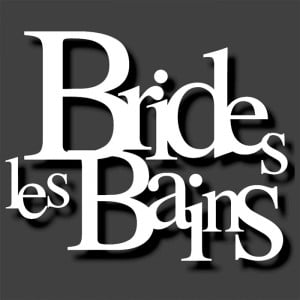 Our service stops on the bridge opposite the fountain, very close to the the Tourist Office in the centre of Brides Les Bains. Expand the section BUS STOPS below to see a map showing the location of our stop in resort. Here you will also find links to the Tourist Office interactive map as well as information on the free shuttle buses which circulate the resort. You can use these buses to get to and from your accommodation.
INFORMATION ABOUT BRIDES LES BAINS AND GENEVA AIRPORT

For information about Brides Les Bains, explore the Brides Les Bains Tourist Office website. You can download piste maps here

For a snow report, the J2Ski website seems pretty good. For live webcams visit Brides Les Bains webcams.


Find more information on the Geneva Airport website, our Geneva Airport FAQ's.
Our shared ski transfers between Geneva Airport and Brides Les Bains run on the following dates:
SATURDAYS:  From the 11th December 2021 until the 16th April 2022
SUNDAYS:  From the 12th December 2021 until the 10th April 2022
WEEKDAYS:   We do have some weekday buses over the Christmas and New Year period. Use our booking form to see if your dates appear in our calendar. If they don't and your group is 6 or more, get in touch as we may be able to lay something on for you. Otherwise, visit our alternative transport page for some useful advice on taxis and public buses on weekdays.
We have more services to Moutiers, the village at the bottom of the mountain.
Please Note The Following Exceptions:
– We have no services on Saturday 25th December (Christmas Day)
– On the 11th, 12th, 27th & 28th December we only have buses from Geneva Airport
– On the 3rd January and 10th & 16th April 2022 we only have buses to Geneva Airport.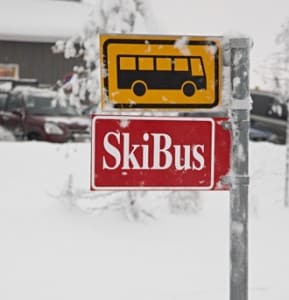 Our bus timetable is built around the flight arrivals and departures, so you never have to wait long. The easiest way to see the times of our shared ski transfers is to enter your details into our Instant Quote box and continue through the booking process. The next page will show you a price breakdown, including any discounts. Once you enter your flight details, the nearest bus times will be displayed.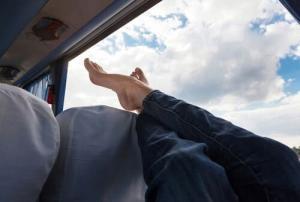 The journey from Geneva Airport to Brides Les Bains usually takes about 2 hours 20 minutes. This is an approximation as it depends on the road conditions and whether you will need to change buses at Moutiers. We allow extra time when we suspect the traffic may be bad. With years of experience driving this route, we know how long to allow for the journey depending on the time and date of the transfer. Once you put your details into our online booking system, we will show you a list of the available bus times.
Our stop in Brides Les Bains is located on the bridge close to the Tourist Office. Please ensure you are at the stop 10 minutes before departure time to allow us to pack your luggage onto the bus. Our vehicles will have signs in the window & our reps will be on hand to assist you.
The map below will be shown on your e-Ticket along with the pick up time. You can see the stop on googlemaps here or take a look at the Tourist Office Interactive Map of the Brides Les Bains.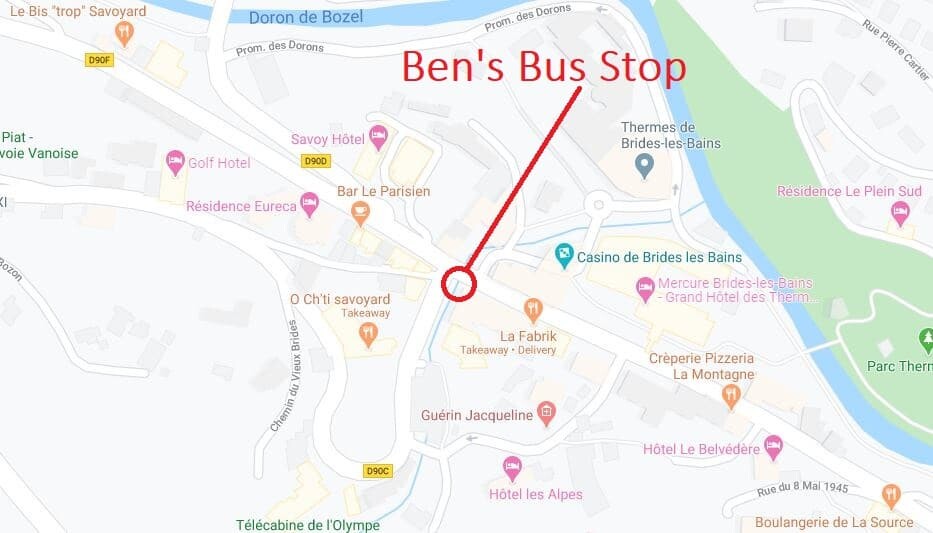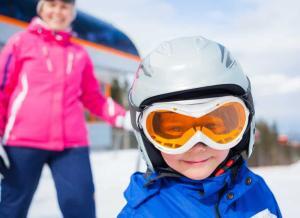 To see our policy on Children travelling on our services between Geneva Airport and Brides Les Bains, please visit our Childrens Page and expand the section GENEVA AIRPORT.
what happens if our flight is delayed?
Our Service
We provide an emergency telephone number on your e-Ticket in case you need to contact us.

We have English speaking reps at the Airport and in resort to help you with your transfer.

We typically use larger vehicles which are more environmentally friendly.

We use experienced drivers who know the mountainous terrain.

We are a well established company who have been operating in the Alps for many years.
Please note that from time to time, our transfers from Geneva Airport may require a stop at Moutiers, where you may need to change over to another feeder coach. Our team will help keep this inconvenience to a minimum.