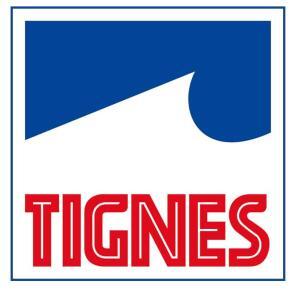 Ben's Bus operates regular week-end transfers to Tignes from Geneva, Grenoble and Lyon Airports. Geneva Airport is probably the most convenient airport as it's the closest and has so many flights, but Grenoble and Lyon are both good alternatives. With prices from just over £43pp, shared transfers are the cheapest and most environmentally friendly way of getting to Tignes. We generally use larger coaches, which offer a more comfortable journey as they have more space than private taxis or hire cars.
Tignes is a hugely popular French ski resort, linked with Val d'Isere. Their combined ski area boasts an impressive 300km of piste and enjoys an enviable snow record. The resort is split into 4 villages. All our transfers make stops at Tignes Les Brevieres, Tignes 1800, Tignes Le Lac (for Le Lavachet) and Tignes Val Claret. Our Ben's Bus Plus upgrade gives you greater refund protection and flexibility to change your booking for free.

GENEVA TO TIGNES TRANSFERS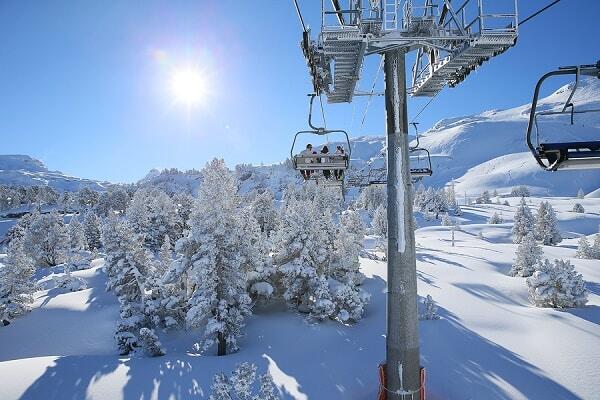 Our Geneva to Tignes transfers run every weekend from the 2nd December 2023 – 27th April 2024. We have many shuttle buses running each day, so you'll never have to wait long. Our prices from Geneva Airport cost £91.50 Return, £49.50 Single. However, with our discounts for groups you could pay just over £43 for a Single. Click the banner above to get a quote or visit our Prices Page to see how much your transfer will cost.
GRENOBLE TO TIGNES TRANSFERS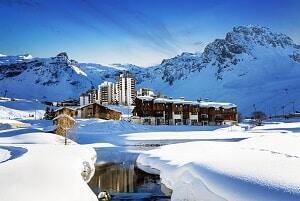 Grenoble Airport is slightly further away than Geneva. However, more of the journey is on the motorway and there is no international border to cross, so it's a viable alternative. Grenoble to Tignes transfers are available on Saturdays and Sundays from the 16th December 2023 – 13th April 2024. The price of a transfer from Grenoble Airport is £95pp Return, £51.50 Single. We have discounts for groups and children, meaning you could pay just £45pp Single.
LYON TO TIGNES TRANSFERS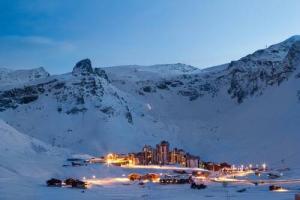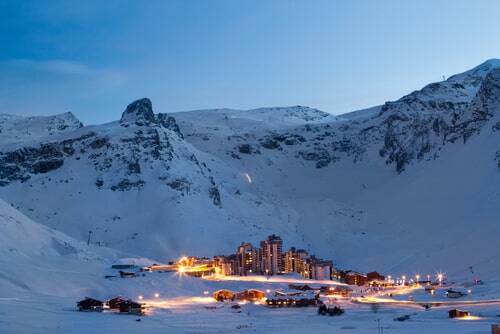 Lyon Airport is the furthest airport from Tignes but most of the journey is on motorways, so although that means more tolls, it also means you can travel faster. However, during school holidays, the Parisians use this route to return home so it's not the best airport to use during busy times. Our transfers from Lyon to Tignes run on Saturdays from the 16th December 2023 – 30th March 2024. The price of a transfer from Lyon Airport with Ben's Bus is £95pp Return, £51.50pp Single.
TIGNES TRANSFER TIMES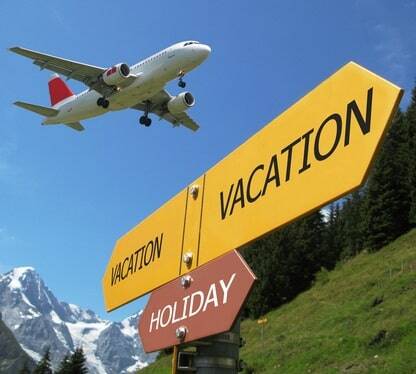 Chambery is the closest airport to Tignes and has the shortest transfer time. Geneva (GVA), Lyon (LYS) and Grenoble (GNB) Airports are a little further away but they have a far greater choice of airlines and destinations. The transfer time depends on the travel conditions at the time. We know when the journey may take longer and we allow extra time when we think the roads may be busy. The transfer times shown below are for Tignes Les Brevieres, the first resort you arrive at.
Geneva Airport to Tignes is 169km.
The transfer time from Geneva to Tignes is about 3 hours 20 minutes. Get directions from Geneva Airport to Tignes.
Lyon Airport to Tignes is 213km.
The transfer time from Lyon to Tignes is about 3 hours 40 minutes. Get directions from Lyon Airport to Tignes.
Grenoble Airport to Tignes is 200km.
The transfer time from Grenoble to Tignes is about 3 hours 30 minutes. Get directions from Grenoble Airport to Tignes.
Chambery Airport to Tignes is 135km.
The transfer time from Chambery to Tignes is about 2 hours 25 minutes. Directions from Chambery Airport to Tignes.

Bourg St Maurice Coach Station is 25 km from Tignes. The transfer time is about 30 mins. If you are looking for transfers up the mountain, we'd recommend the local public buses or a private taxi.
BUS STOPS IN TIGNES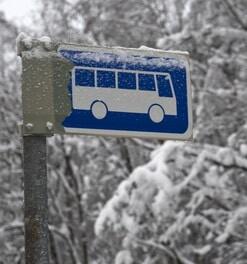 The first resort you arrive at from the airport is the pretty village of Tignes Les Brevieres. Next is Tignes 1800, then the more popular Le Lac (for Le Lavachet) before arriving at Tignes Val Claret. All our services from all airports can drop you and pick you up from all of these resorts. The Tourist Office Map can help you find where you are staying. The free in-resort shuttle buses dart between and around each Tignes resort and can get you closer to your accommodation if needed. Our eTickets will include a map showing our stop.
TIGNES VAL CLARET BUS STOP
View our Tignes Val Claret Bus Stop in GoogleMaps.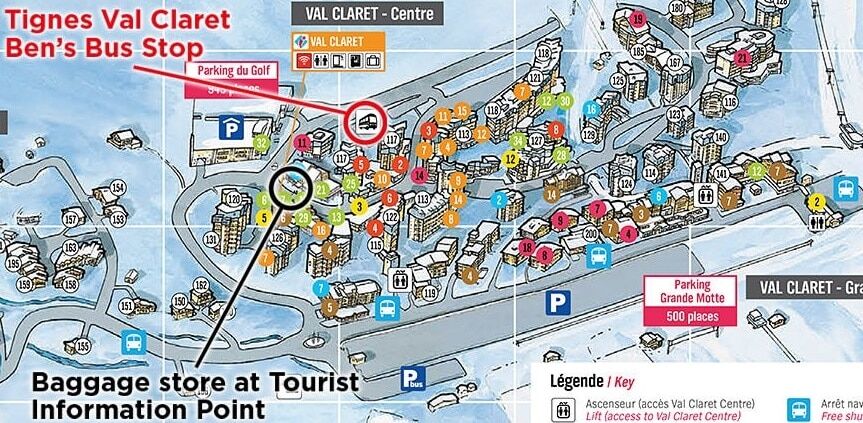 TIGNES LE LAC BUS STOP
See our Tignes Le Lac Bus Stop in GoogleMaps.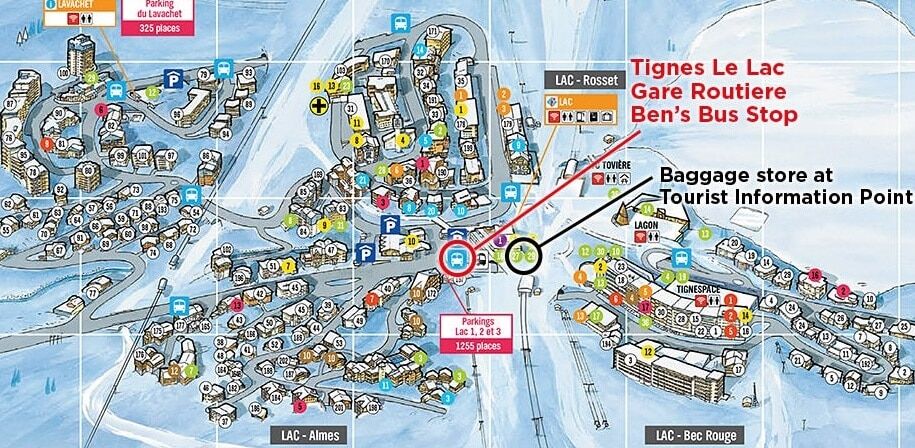 TIGNES 1800 BUS STOP
See our Tignes 1800 Bus Stop in GoogleMaps.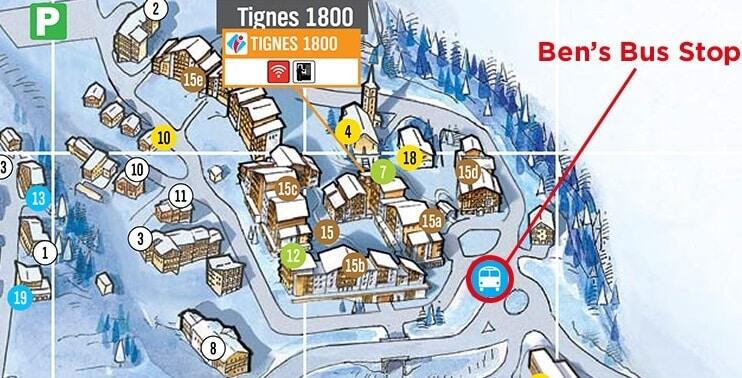 TIGNES LES BREVIERES BUS STOP
See our Tignes Les Brevieres Bus Stop in GoogleMaps.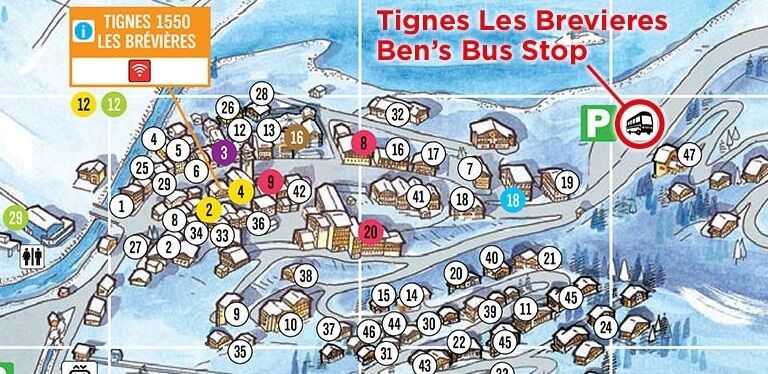 A GUIDE TO TIGNES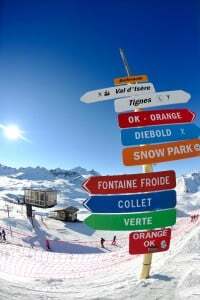 Tignes and Val d'Isere make up the amazing ski area formerly known as "Espace Killy". It offers some of the best skiing in the world. There are 300km of marked runs, serviced by 88 ski lifts. Although it has a wide range of pistes catering for all types (27 black runs, 40 reds, 66 blues and 23 greens) it is really a resort for intermediate and advanced skiers. Its position between the French and Italian Alps gives it a consistent and reliable snowfall. This, as well as the access to 2 glaciers, including the famous Grand Motte Glacier, ensures your holiday is snow guaranteed.
The ski resort of Tignes was conceived in the 1950's, when the French government-built a dam flooded the original village. The resulting purpose built resort, located further up the mountain, suffered from the architectural style of the time. However, what the resort lacks in architectural aesthetics, it makes up for in skiing and facilities. It has plenty of bars, cafes and restaurants and a modern sports and leisure complex. It is an affordable alternative to its glamorous neighbour, Val d'Isere.
TRANSPORT, TOURISM AND WEATHER INFORMATION

Weather & Snow: See the latest Snow Report or just take a look at the live webcams

Pistes Maps: Download the the Tignes Piste Map

Baggage Storage: The Tourist Office run a facility in Val Claret & Le Lac. More details can be found on our Baggage Store page

Car Hire: Remember to factor in the cost of snow chains, petrol, tolls, parking in resort and the insurance excess.

For more information on the airports, visit the official websites for Geneva Airport, Lyon Airport or Grenoble Airport.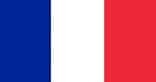 Nous avons une version française de ce page – Navette aéroport Tignes