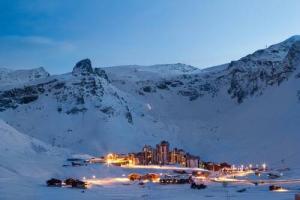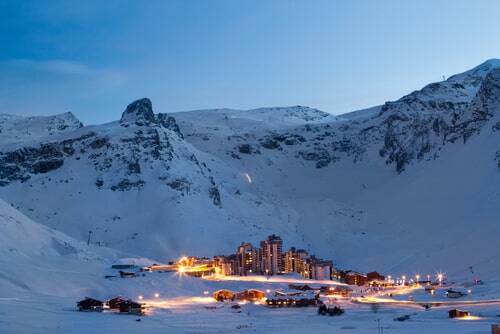 Ben's Bus run transfers from Lyon Airport to Tignes on Saturdays from the 16th December 2023 – 30th March 2024. This is our 9th winter running our Lyon to Tignes route and our 18th running low cost transfers in the French Alps. Our network includes more frequent airport shuttles from Geneva to Tignes and Grenoble to Tignes. We usually transport passengers in large coaches, which reduces your journeys' carbon footprint. This also means we can offer the cheapest ski transfers on the market, whilst our dedicated staff still ensure a safe, reliable and timely service.
All our airport transfers to Tignes stop at Tignes Val Claret, Tignes Le Lac, Tignes 1800 & Tignes Les Brevieres.

LYON TO TIGNES TRANSFERS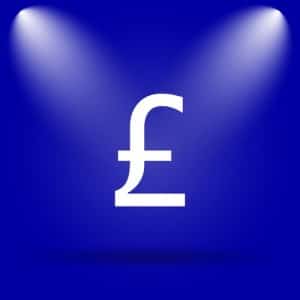 A Lyon to Tignes transfer on shared service will cost you £95 Return. A Single costs £51.50. If there are 8 or more of you in a booking, you could pay as little as £83pp Return (but you must all be arriving and departing on the same flight). Children under 12 enjoy a 10% discount. To get an Instant Quote for your group in just a few seconds, click on the banner above. Alternatively, check out our Prices page. We're sure you won't find a cheaper way of getting from Lyon Airport to Tignes.
TRANSFER TIME FROM LYON AIRPORT TO TIGNES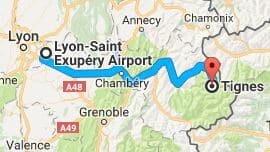 The transfer time between Lyon airport and Tignes is between 3 hours 30 minutes and 5 hours. This depends heavily on which resort you are going to, the date, time of day, weather and traffic. We know when to allow more time for the journey, such as during the school holidays. The distance from Lyon Airport to Tignes Val Claret is 221 km. The route our vehicles usually take is the A43 (E70) motorway to Albertville, via Chambery, then the N90 national road to Bourg St Maurice before climbing up the D902 to Tignes.

BUS STOP IN TIGNES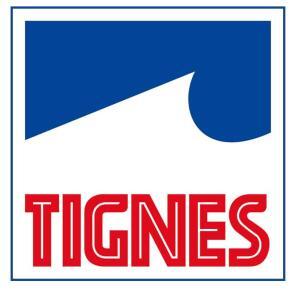 Our service stops at convenient places in Tignes Les Brevieres, 1800, Le Lac (for Le Lavachet) and Val Claret. You can select any of these resorts when you make a booking with us. Expand the section BUS STOP LOCATION below to see a map of our stops and links to the interactive maps of the resorts. You can also see information about the free in-resort shuttle buses which can take you onto you accommodation.
USEFUL INFORMATION ABOUT TIGNES AND LYON AIRPORT

Information about all the Tignes resorts can be found on Tignes Tourist Office website. You can download piste maps here

Check out the latest Tignes snow reports or better still, see the conditions right now using the Tignes webcams


We have lots more information on Lyon Airport FAQ's page or our Lyon Airport page or visit the Lyon St Exupery (LYS) Website
The Ben's Bus services between Lyon Airport and Tignes run on these dates:
SATURDAYS : From the 16th December 2023 – 30th March 2024. Visit our Alternative Transport page for recommendations and advice on getting to Tignes on other dates.
SUNDAYS : We don't operate buses from Lyon Airport on Sundays. We do have a Sunday morning services from Grenoble Airport though. A taxi between these 2 airports costs about €110 and takes around 45 minutes. You can use our Booking Form and select any flight to see what time our Grenoble bus runs and if you can make it. Otherwise, consider changing your flight so it arrives into Geneva or Grenoble or see what alternative transport options we recommend.
WEEKDAYS : We don't operate any weekday services from Lyon Airport. Our alternative transport page may be able to help you.
Throughout the season, we have more buses on more Saturdays and on Sundays between Grenoble Airport and Tignes as well as between Geneva Airport and Tignes. You could fly into one airport and out of another and then make 2 separate, Single bookings with us. Or book one Single with us and another Single with a different company.
Please Note The Following Exceptions:
– On Saturday 16th December we only have services from Lyon airport.
– On Saturday 30th March we only have services to Lyon airport.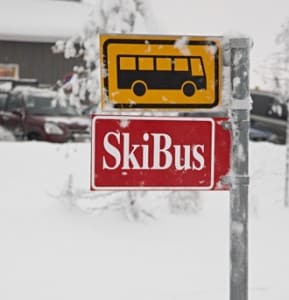 For accurate bus times, enter your details into our Booking Form. The next page will ask for your flight details and that page will then refresh to show our buses. We generally only have a mid-morning, lunchtime and late afternoon service from Lyon Airport. We only run 2 morning services per Saturday back to Lyon Airport.
MY FLIGHT ARRIVES INTO LYON AIRPORT AFTER THE LAST FLIGHT TIME LISTED :
We're sorry but we can't help you. View our recommendations for alternative transport. It may be cheaper for you to change your flight to an earlier one so you can take our bus rather than pay for a more expensive transfer.
MY FLIGHT DEPARTS LYON AIRPORT BEFORE THE FIRST FLIGHT TIME LISTED :
We're sorry but we can't help you. You will probably need to book a private transfer.
USEFUL TIPS : You could book a Single with us for one leg of your journey and travel the other way with another company. You could also consider changing one or both of your flights into / out of Grenoble or Geneva Airports, as we have more frequent services from those airports on both Saturdays and Sunday.
The transfer time between Lyon Airport & Tignes Les Brevieres can take between 3 hrs 30 mins & 5 hours. Tignes 1800 is a further 10 minutes away, Le Lac a further 10 minutes and Val Claret another 10 minutes.
These transfer times are approximations and vary so much as they depend heavily on what date and time of day you are travelling. We allow extra time for the journey when we know the traffic may be bad, such as during the school holidays. With the increased amount of traffic we are seeing on the roads in recent years, we are having to add even more time to the journey. You don't need to think about this though as we've done the work for you. Put your flight details into our booking system and we will show you a list of available bus times.
We may ask you to change buses at Bourg St Maurice and sometimes our drivers may need to take a legal break mid-journey.
Please note that expected journey times are difficult to predict in the mountains due to weather and traffic conditions.
How to find our buses at Lyon Airport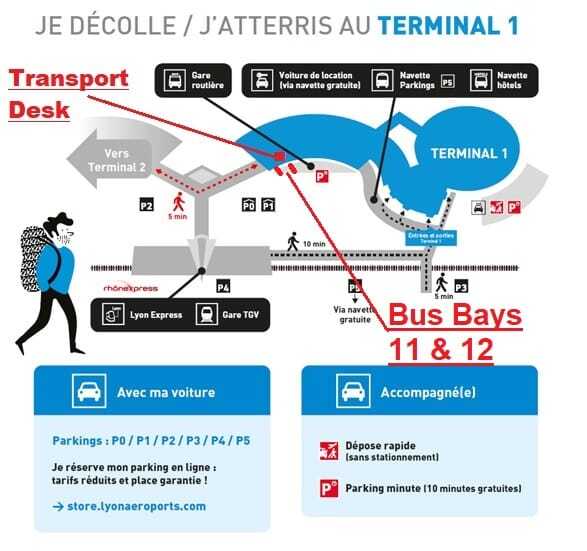 All our services use Bus Bays 11 & 12 of the "Gare Routiere" on the Ground Floor of Terminal 1. Click the image to the left to see a more detailed map of the airport and location of our bus stops. On Saturdays, a uniformed Ben's Bus rep will there to assist you.
You can see a map of the Terminals here. To find out which Terminal your flight will arrive at, expand the section "AIRLINES OPERATING OUT OF LYON AIRPORT" on our Lyon Airport page.
Our maps will be displayed on your eTicket. The Tignes Tourist Office map of the resort can help you find where your accommodation is in relation to our stops. The free shuttle buses depart from or very close to the all of the Ben's Bus stops.
Tignes Val Claret Bus Stop
The 'Gare Routiere' Bus Station, which is a small outdoor coach park on the North Eastern side of the village, just above all of the buildings. It is close to the Parking du Golf. View our Tignes Val Claret Bus Stop in GoogleMaps.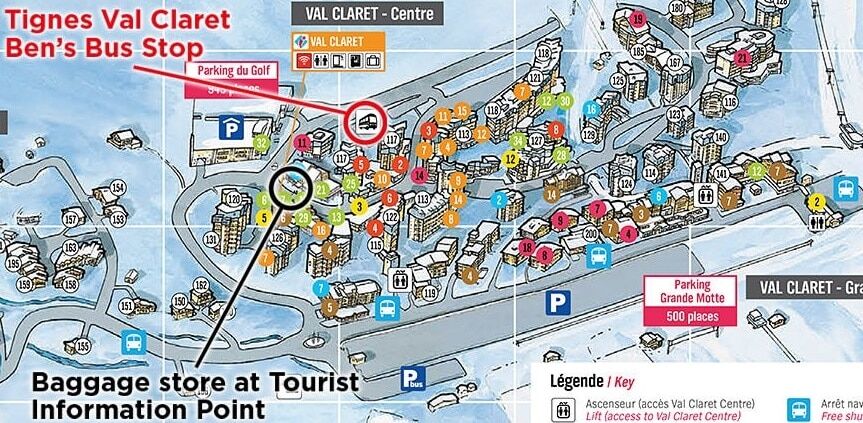 Tignes Le Lac Bus Stop
At the main bus station, the "Gare Routiere", in the centre of the village. If you are staying in Le Lavachet, this is the stop for you. View our Tignes Le Lac Bus Stop in Google Maps.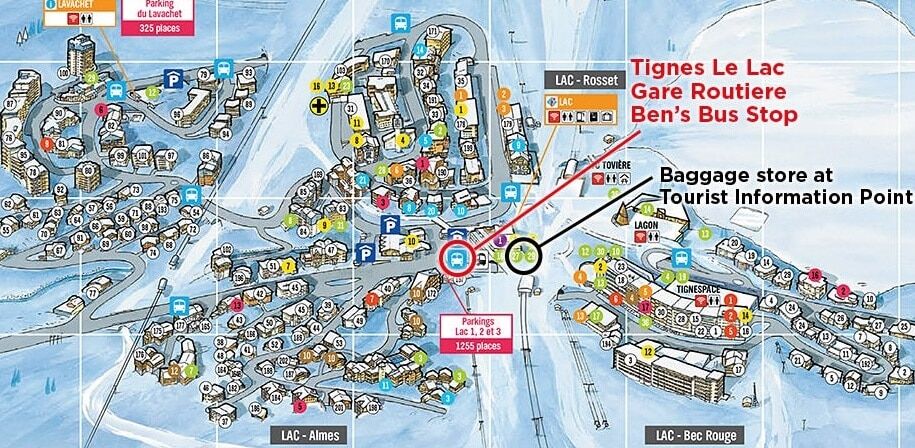 Tignes 1800 Bus Stop
On the roundabout on the main road going down to Bourg St Maurice is a bus stop. See the location of the Tignes 1800 Bus Stop in Google Maps.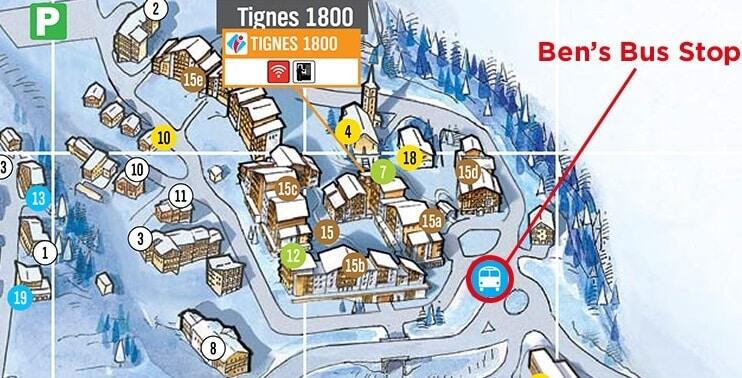 Tignes Les Brevieres Bus Stop
On the road out of the village, on the left there is a large parking area. Most of the Tignes Chalet Chardons chalets are located in this resort. View the Tignes Les Brevieres Bus Stop in GoogleMaps.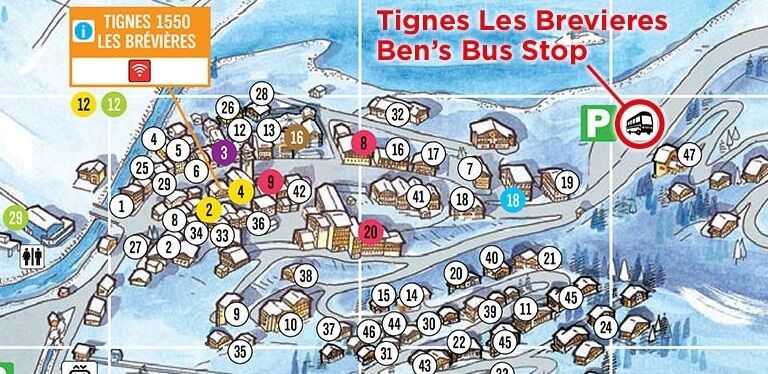 what if our flight is delayed?
Our Service
We provide links on your e-ticket to our Emergency Contact Numbers page in case you have a problem on transfer day.

On Saturdays, we have English speaking reps at the Airport and in resort to help you with your transfer.

We typically use larger vehicles which are more environmentally friendly.

We use experienced drivers who know the mountainous terrain.

We are a well established company who have been operating in the Alps for many years.
Please note we may ask you to change buses en-route. Our team will help you with this.