Grenoble Airport to La Grave transfers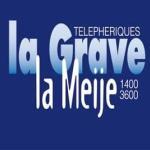 Ben's Bus operates shared transfers from Grenoble Airport to La Grave on Saturdays (and a few Sundays) during most of the 2021 / 2022 ski season. You can also book a Saturday, Sunday or weekday service to the Lac du Chambon or Bourg d'Oisans from Grenoble Airport. From here you can take local buses or taxis onto La Grave. We've been running low cost airport transfers for 16 years. We pride ourselves on offering the cheapest ski transfers on the market and our staff will ensure you have a smooth journey. We generally use large coaches which reduces your carbon footprint.

TRANSFERS FROM GRENOBLE AIRPORT TO LA GRAVE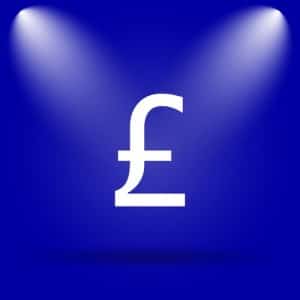 A shared ski transfer from Grenoble Airport (GNB) to La Grave with Ben's Bus will cost you just £83pp Return. With some great discounts for groups, you could pay as little as £73pp Return. A single costs just £45pp. If you are travelling with children under 12, they will receive a 10% discount. A Saturday Single to the Lac du Chambon costs just £30. Get an Instant Quote for your group in seconds or expand the PRICES Section below to see more details.
GRENOBLE AIRPORT TO LA GRAVE TRANSFER TIME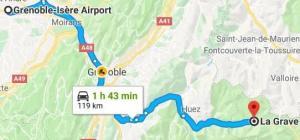 The transfer time from Grenoble Airport to La Grave is about 2 hours, depending on the date, time of day, the weather and traffic conditions. We allow more time for the journey when we know traffic may be bad. The distance from Grenoble Airport to La Grave is 119 km. Our vehicles usually take the A48 motorway to Grenoble, then the N85 and the D1091 to Bourg d'Oisans, where we may ask you to change buses. From Bourg d'Oisans we continue along the D1901, over the Barrage du Chambon and onto La Grave. Click on the map to see the route we take.
LA GRAVE BUS STOP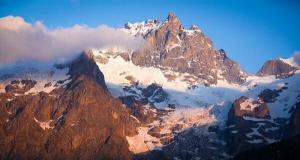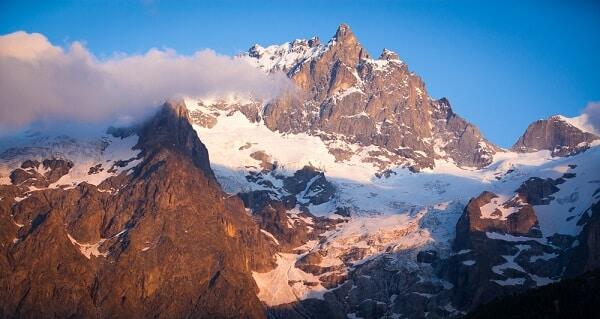 Ben's Bus reps will greet you at Grenoble Airport to give you all the information you may need and to help your journey to resort go as smoothly as possible. Our bus stop in La Grave is right next to the Post Office, opposite the Tourist Office. La Grave is quite small so you can walk to your accommodation from our stop. You can see a map of our La Grave stop and our Lac du Chambon stop in the section below BUS STOP LOCATION. A map and a description of the bus stops will be on the eTicket that we send you when you book with us.
INFORMATION ABOUT LA GRAVE AND GRENOBLE AIRPORT

For information about La Grave, explore the La Grave Tourist Office.

For a decent snow report, the snowforecast website seems pretty good. For live webcams, try the excellent La Grave webcams

We have more information on our La Grave page, our Grenoble Airport FAQ page or our Grenoble Airport page.
Our buses run between Grenoble Airport and La Grave every Saturday from the 1st January 2022 – 26th March 2022.
We also have Sunday services on the 19th & 26th December.
If your flight arrives too late for our last service (at 16:30 on Saturdays), you can take our bus to Bourg d'Oisans or the Lac du Chambon and make your own onward travel arrangements from there.
Please Note The Following Exceptions:
– On the 19th December 2021 & 1st January 2022 we only have a service from Grenoble Airport
– On the 26th December 2021 the 26th March 2022 we only have a service to Grenoble Airport
ALL OTHER TIMES
We do have services from Grenoble Airport to the Lac du Chambon, connecting with every scheduled flight. The Lac du Chambon is very close to La Grave. From here you can take the public bus – the LER 35 – but it is not that regular. More details can be found on the LER Website. Or you could consider a private taxi for the last part of your journey.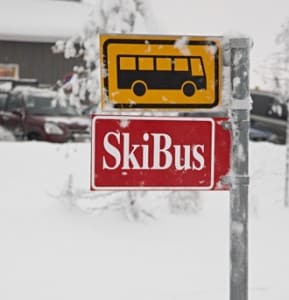 We have 3 buses on Saturdays to La Grave but we do not service any flights arriving onto Grenoble Airport after 15:30. If you arrive on a flight after this time, you can take our service to the Lac du Chambon and make your own onward travel arrangements from there.
Our bus timetable may not work well for your particular flight, as there may be a delay between your flight landing / departing and our bus leaving / arriving. We would advise you to put your dates into our Instant Quote form to see what time our buses leave. If the times don't suit your flight, try searching again but to either Bourg d'Oisans or Lac du Chambon, as we have twice as many buses from these points. You can take a taxi or public bus to/from your resort to these points and you can find details about that on our La Grave page under the section "TRAVELLING FROM LAC DU CHAMBON TO LA GRAVE".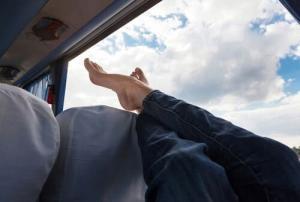 The transfer time between Grenoble Airport & La Grave is usually about 2 hours. These times are approximations. We allow extra time on certain dates & certain times of the day when we know the traffic may be bad. With years of experience running shared ski transfers, we know how long to allow for the journey depending on the time and date of the transfer. Once you put your details into our online booking system, we will show you a list of the available bus times.
Please note that we may ask you to change buses at Bourg d'Oisans, which is about 3/4 of the way to La Grave. Our drivers and / or reps will help you with this.
There are certain dates which we think we will see very heavy traffic as these are the school holidays in France and Europe. We will allow a lot more time for buses on these dates, especially between the hours of 10am and 2pm, but please bring something to keep you and your family occupied and be prepared for a longer journey. If you need a comfort break, just ask the driver and he'll be happy to pull over at the next safe place with appropriate facilities.
If you are travelling on a Saturday we can take you all the way to La Grave. Scroll further down for our bus stop at the Lac du Chambon. The La Grave Stop is at the bus stop right next to the Post Office, opposite the Tourist Office. Please ensure you are at the stop 10 minutes before departure time to allow us to pack your luggage onto the bus. Our vehicles will have signs in the window but please keep an eye out for taxis and buses passing by. The map below will be shown on your e-Ticket along with the pick up time. See our stop in google maps here.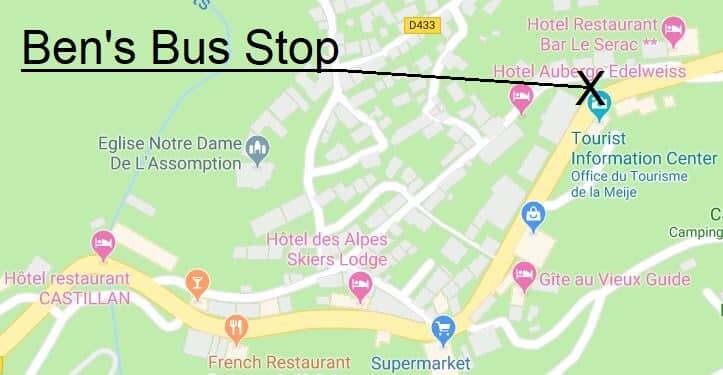 If you have select the stop "Lac du Chambon" – on either Sundays or weekdays, then you will see below exactly where our bus stop is. You can also view the stop in googlemaps.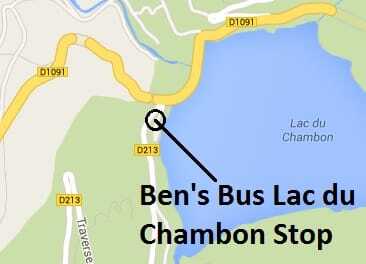 WHAT IF MY FLIGHT IS DELAYED?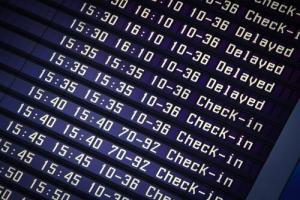 We allow a minimum of 45 minutes for customers to clear Passport Control and Baggage Reclaim. At busy times of the day, we allow even more time, but on weekdays, we allow less time.
If you are delayed, we will wait for you but we may not be able to hold our bus for longer than 15 minutes after its scheduled departure time. After that we will do everything we can to get you on our next available ski transfer at no extra cost.
Our team at the airport monitor flight arrivals so you don't need to contact us if you are delayed. Our team will be busy juggling buses around to try to accommodate you on another service – or we may be holding the bus back. We have many buses going back and forth each day and our record for getting people to resort is extremely good.
Our Service
We provide a telephone number on your e-Ticket in case you need to contact us.
We always try to call our missing passengers to help them out.
We have bilingual managers to greet you at the the Airport.
We typically use large coaches which are kinder on the environmentally.
We use experienced drivers who know the mountainous terrain.
We are a well established company who have been operating in the Alps for many years.
Please note that our transfers from Grenoble Airport may require a stop at Bourg d'Oisans, where you may need to change over to another feeder coach. Our reps and / or drivers will help you with this and we will try and keep this inconvenience to a minimum.