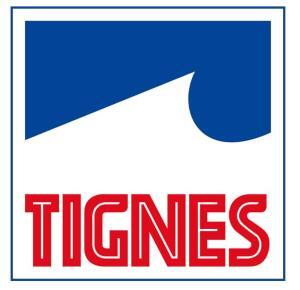 Ben's Bus operates its Tignes ski transfers service from 3 different airports in France and Switzerland. All of our services stop at Tignes Les Brevieres, Tignes 1800, Tignes Le Lac and Tignes Val Claret. More information can be found further down this page or, click on your airport logo below and we will direct you to the page dedicated to the route you are interested in.
DATES & PRICES FOR TIGNES SKI TRANSFERS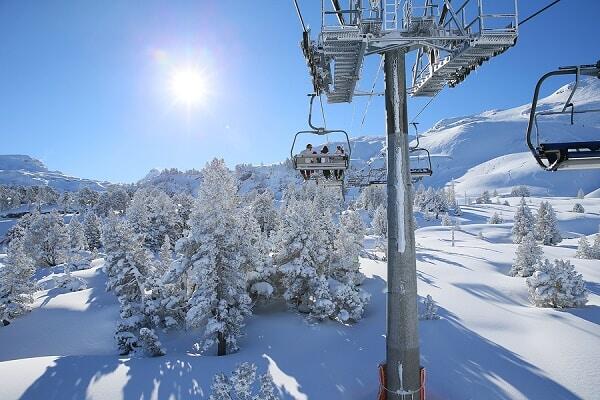 We operate our Tignes ski transfers, connecting you with Grenoble, Geneva & Lyon International Airports, on Saturdays and most Sundays (and Fridays from Lyon Airport) throughout the 2015 / 2016 winter ski season. Depending on which airport you are flying into, we start on the 5th December 2015 and we finish on the 16th April 2016. We have many shared shuttle buses going back and forth each day so you don't have to wait long. Depending on which airport you are flying to, our prices start from only £66.50pp Return and we have some really good discounts for groups and children. Click this link if you wish to Book Now or receive an Instant Quote for your group. Our Booking engine will apply the discounts automatically and then show you what times our buses leave.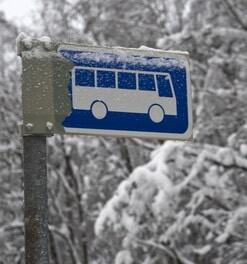 Tignes is split into 4 sub-resorts: Tignes Val Claret at the top, then Tignes Le Lac, then Tignes 1800 (formerly Tignes Les Boisses) and finally the pretty little village of Tignes Les Brevieres. Our Tignes ski transfer service from Grenoble, Geneva and Lyon Airports make stops at all these resorts. From all our stops, you can use the free resort "Navettes" to get to your accommodation.
TIGNES SKI RESORT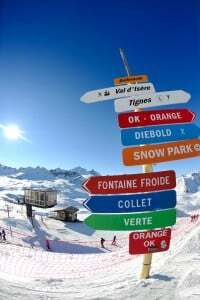 The ski resort of Tignes was conceived in the 1950's, when the French government built a dam which flooded the original village of Tignes. The resulting purpose built resort, located further up the mountain, suffered from the architectural style of the time. However, what Tignes lacks in architectural aesthetics, it makes up for in skiing and facilities. It has plenty of bars, cafes and restaurants and a fantastic, modern sports and leisure complex. It's a well priced resort and certainly a lot cheaper than its more glamorous neighbour, Val d'Isere.
Tignes is part of the fantastic Espace Killy ski area which offers some of the best skiing in the world. 300km of marked runs are serviced by 88 ski lifts. Although it has a wide range of pistes catering for all types (27 black runs, 40 reds, 66 blues and 23 greens) it is really a resort for intermediate and advanced skiers. Its position between the French and Italian Alps allows for an consistent snowfall record and with access to 2 glaciers, your holiday is snow guaranteed.
WHICH AIRPORT IS BEST FOR TIGNES?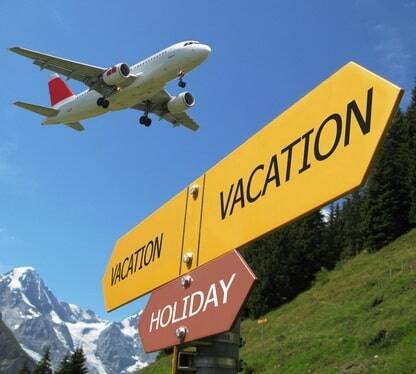 Tignes is pretty much at the end of the Tarentaise valley road, so be prepared for one of the longest transfer times of the French ski resorts. The journey time depends on which Tignes resort you're going to, the traffic and weather conditions and whether you're going during the school holidays, when the roads can be very busy. Chambery is the closest airport but with limited flights, most people choose to fly into Geneva, Lyon or even Grenoble. The times below are all for Tignes Les Brevieres, the first Tignes resort you come to as you enter from the airports
– Geneva airport (GVA) is 169km from Tignes Les Brevieres and the transfer time is between 3 hours and 4 hours.
Visit our Geneva Airport for more information about the airport itself, or take a look at the official Geneva Airport website
– Lyon airport (LYS) is 213km from Tignes Les Brevieres and the transfer time is between 3 hours and 4 hours.
Our Lyon Airport page shows all the airlines that you can fly with into Lyon, or visit the Lyon Airport website
– Grenoble airport (GNB) is 200km from Tignes Les Brevieres and the transfer time is between 3 hours and 4 hours.
Our Grenoble Airport page shows all the airlines that you can fly with into Grenoble, or visit the Grenoble Airport website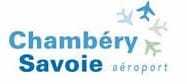 – Chambery airport (CMF) is 135km from Tignes Les Brevieres. The transfer time is about 2 – 3 hours.
TIGNES WEATHER, TRANSPORT & TOURIST INFORMATION
– We believe we are the cheapest way of getting to Tignes from Grenoble, Geneva and Lyon Airports.
– For Tourist Information about Tignes, please visit the Tignes Tourist Office website.
– The Tignes Tourist Office run a luggage storage facility in Val Claret & Le Lac. More details can be found on our Baggage Store page
– The Ski Nets site, Tignesnet , is also very good, as is the Tignes Spirit website
– For a decent weather forecast, the snowforecast website is well trusted by skiers
– For up to date traffic reports on the roads around Tignes, check out the French government website Bison Fute
ACCOMMODATION IN TIGNES

If you have not already booked your accommodation, we can recommend Ski Bonjour who operates quality ski chalet holidays in Tignes Les Brevieres. Tignes Les Brevieres dates from the 13th Century and is still relatively unspoilt and is a great base for your holiday. They also have Sunday changeovers.