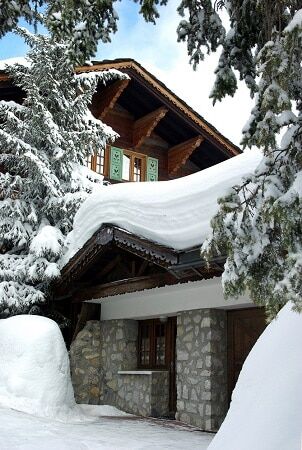 Vaujany is a satellite resort of Alpe d'Huez, connected by ski pistes but not by road. Ben's Bus transfers from Lyon Airport will drop you at Rochetaillee. This is a small village on the valley floor where the road splits to go to Alpe d'Huez and Vaujany. From here you can catch connecting taxis and buses for the short trip up to Vaujany. We also have a stop at Bourg d'Oisans. Expand the dates section below to see what days our transfers from Lyon Airport operate on. We have more services from Grenoble Airport to Vaujany,
You can find more details about how to get from these stops to Vaujany and on what dates we operate in the sections below.

TRANSFERS TO VAUJANY FROM LYON ST EXUPERY AIRPORT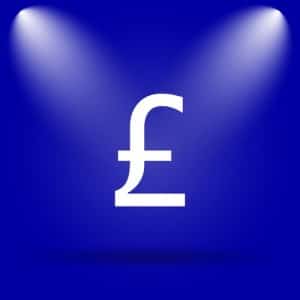 We have the cheapest rates on the market whilst still offering a fantastic level of service. A Return ski transfer from Lyon St Exupery Airport to Rochetaillee with Ben's Bus will cost just £63pp Return. With our group discounts you could be paying just £55pp Return. We also offer a 10% discount for children under 12. Visit our Prices page for a full list of our charges.
Our ski transfer buses on Saturdays have reps to greet you at Lyon Airport and are direct to Rochetaillee. Our buses very rarely may have to pass via Grenoble Airport to pick up passengers there, en route. Our Lyon Airport Ski Transfer Questions page has answers to many FAQ's which may answer any questions you have about our service.
We operate our Lyon Airport to Rochetaillee transfer service on the following dates:
FROM LYON AIRPORT : From the 8th January 2021- 19th March 2022
TO LYON AIRPORT : From the 15th January 2021 – 26th March 2022
At all other times, you have the option of public transport, a private transfer or a hire car. Visit this page of our website to see what we recommend.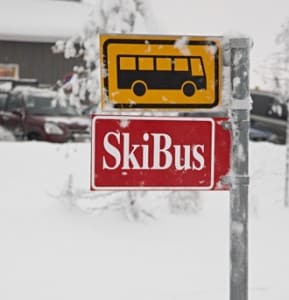 For accurate bus times, use our Online Booking Form and enter your dates, the route you are interested in and the number of Adults and Children in your group. The next page will ask for your flight details and the page will then refresh to show you our available buses.
Remember, you could book a Single with us for one leg of your journey and travel the other way with another company. Visit this page of our website to see what public transport and private taxi options we recommend.
Click on the map below to see our stop in google maps. If you chose to get on and off our bus in Bourg d'Oisans, we use the main bus station, the 'Gare Routiere'.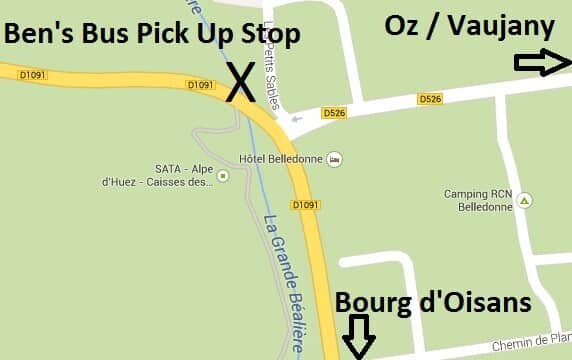 What if my flight is delayed?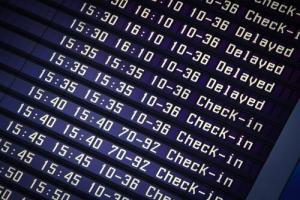 When we think the airport will be busy, we allow more time, but generally we allow 45 minutes for customers to clear Passport Control and Baggage Reclaim.
If you are delayed, we can wait for you but we may not be able to wait longer than 15 minutes after your bus' scheduled departure time. After that, provided there is space, you can travel on our next service, if there is one, for free. We leave empty seats on all our services for exactly this reason.
We monitor flight arrival times so you don't need to contact us if you are delayed. Our team will be busy trying to accommodate you on another service. Or they may be holding the bus back. On Saturdays, when you come out of Arrivals, just find our rep and they will update you.
Journey Time and onward transport from Rochetaillee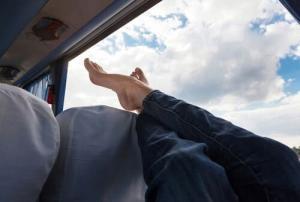 The journey between Lyon Airport and Rochetaillee takes about 1 hour 50 minutes in normal traffic. The journey from Rochetaillee to Vaujany in a taxi is a further 25 minutes. To co-ordinate a swift changover, give the taxi driver your Ben's Bus departure time from Lyon Airport. They will then suggest how to communicate with you on the day.
To see a list of bus companies and taxi firms which can take you from Rochetaillee to Vaujany, visit our Vaujany page and expand the section ONWARD TRANSPORT.
For your journey back to the airport, we allow more time when we know the travelling conditions may be bad, such as during the school holidays or at certain times of the day. Our buses need to pass along the Grenoble ring road and this can become very congested.