Lyon Airport to Alpe d'Huez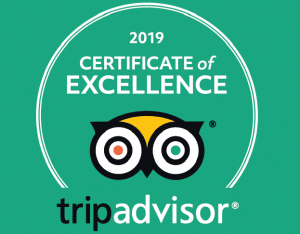 Ben's Bus operates transfers from Lyon Airport to Alpe d'Huez almost every day of the 2019 / 2020 ski season – except Wednesdays. This is a new route we have launched following the success of our shared transfers from Grenoble Airport to Alpe d'Huez. We pride ourselves on offering the cheapest transfers on the market whilst still providing a fantastic service. There are up to 4 ski shuttle buses on most Saturdays and at least one transfer each weekday. We generally use large coaches which reduces your carbon footprint.

TRANSFERS TO ALPE D'HUEZ FROM LYON AIRPORT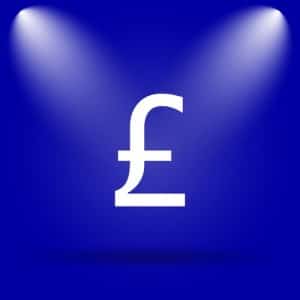 A cheap Alpe d'Huez ski transfer from Lyon St Exupery Airport (LYS) on Saturdays will cost you just £63pp Return. With some great discounts for groups, you could pay as little as £55pp Return. A Saturday single costs just £35pp. If you are travelling with children under 12, they will receive a 10% discount. We don't charge you booking fees and we don't charge you for carrying skis. Click to Book Now or receive an Instant Quote for your group. Or you can expand the PRICES section below to see more details. We're sure you won't find a cheaper way of getting from Lyon Airport to Alpe d'Huez.
LYON AIRPORT TO ALPE D'HUEZ TRANSFER TIME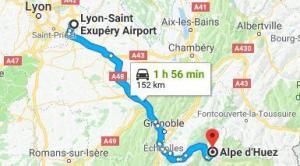 The transfer time from Lyon Airport to Alpe d'Huez is about 2 hours 30 minutes, depending on the date, time of day, weather and traffic conditions. We allow more time when we know the traffic may be bad. The distance from Lyon Airport to Alpe d'Huez is 152 km. Our vehicles usually take the A43 motorway, then the A48 to Grenoble, then the N85 to Vizille, then the D1091 to Bourg d'Oisans, before climbing the famous 21 hairpins of the D211F to Alpe d'Huez. On Sundays and weekdays, our service may pass by Grenoble Airport to drop off / pick up passengers. This does not add significant time to the overall journey.
OUR BUS STOPS IN ALPE D'HUEZ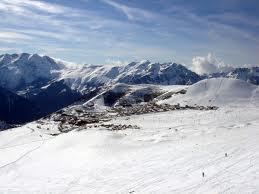 On Saturdays, Ben's Bus reps will greet you at Lyon Airport. We also have reps in the resort on Saturdays and Sundays to ensure you find our bus. If we can't find you, we'll try to call you. We have 4 bus stops in Alpe d'Huez, conveniently located around the resort, close to the main accommodation centres. Expand the section BUS STOP LOCATION below to see a map of these stops and information on the free shuttle buses which circulate the resort. This map and a description of the bus stops will be on your eTicket.
USEFUL INFORMATION ABOUT ALPE D'HUEZ AND LYON AIRPORT

Explore the Alpe d'Huez Tourist Office for information about the resort. You can download piste maps here

For a decent snow report, the snowforecast website seems pretty good. For live webcams, try the excellent Alpe d'Huez webcams


There's more airport information on our Lyon Airport FAQ page and our Lyon Airport page. Or visit the Lyon Airport website.
SATURDAY transfers from Lyon Airport to Alpe d'Huez operate until the 18th April 2020.
SUNDAY shared transfers run until Sunday 22nd March 2020.
Our WEEKDAY services start on Friday 20th December 2019 and run up until Friday 27th March 2020. During this period we will have a shared transfer between Alpe d'Huez and Lyon Airport every day of the week except Wednesdays. Expand the TIMETABLE section below to see our bus times and then right at the bottom of this section, you can find advice on alternative ways to get to the resort if our buses don't suit your travel plans.
Our weekday and Sunday service usually make a short detour via Grenoble Airport to pick up or drop off passengers. This adds a small amount of time to the journey but we're pretty organised and you will find that it is a very short and efficiently handled stop.
The quickest and most accurate way to find a price for your group is to fill in our Instant Quote form. The form takes just a few seconds to complete and it will automatically calculate the price of your group, including all discounts.
Adults (over 12 yrs old) £63pp Return & £35pp Single
Children under 12 receive a 10% discount
Groups of 8 or more people receive 1 seat for free.
There is a £2 charge for each Sunday you travel on and a £4 charge for each weekday you travel on.
A £10 Last Minute Booking Fee will be charged if you book the day before or on the day of your first transfer – so please book early!
We do not charge anything extra for carrying skis
For a full list of our prices to all the ski resorts we cover, please visit our prices page.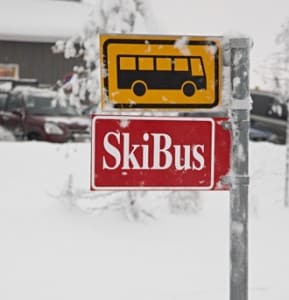 The quickest way to see what times our buses leave Lyon Airport or depart Alpe d'Huez is to use our Instant Quote Form. Once you have selected your flight times, the bus times will then appear. If they suit you, we would advise booking our transfer as soon as you can to ensure we have availability for you. The bus times shown below are only a rough guide to our bus timetable. If we don't have a service to suit you, read our advice at the bottom of this section.
LYON AIRPORT > ALPE D'HUEZ
MONDAYS:           Depart Lyon Airport at 11:50
TUESDAYS:          Depart Lyon Airport at 15:25
WEDNESDAYS:    NO TRANSFERS (except Wednesday 1st Jan, Depart Lyon Airport at 19:00)
THURSDAYS:       Depart Lyon Airport at 15:20 (15:35 on the 26th Dec & 12:10 on the 2nd Jan)
FRIDAYS:              Depart Lyon Airport at 11:50 | 16:20
SATURDAYS:        Depart Lyon Airport at 10:40 |12:40 | 15:45 (& 17:55 on some dates)
SUNDAYS:             Depart Lyon Airport at 11:05
ALPE D'HUEZ > LYON AIRPORT
MONDAYS:              Expected Arrival at Lyon Airport 10:35 (08:30 from the 13th Jan – 10th Feb) 
TUESDAYS:             Expected Arrival at Lyon Airport 15:10
WEDNESDAYS:      NO TRANSFERS (except Wednesday 1st Jan, Expected Arrival at Lyon Airport at 17:00)
THURSDAYS:          Expected Arrival at Lyon Airport 15:05 (11:50 on the 2nd Jan, 14:20 from the 16th Jan – 6th Feb)
FRIDAYS:                 Expected Arrival at Lyon Airport 10:25
SATURDAYS:           Expected Arrival at Lyon Airport 07:10 | 09:00 | 13:25 | 17:00
SUNDAYS:                Expected Arrival at Lyon Airport 08:25 | 10:40 | 17:00
The other possibilities to get to Alpe d'Huez include a private taxi. View our private transfer page for recommendations. Or get the Lyon Airport Shuttle to Grenoble and then change to get the public bus to Alpe d'Huez. There is also the option of staying overnight in a hotel at Lyon Airport and then taking our service the next day. REMEMBER – You could still book a Single with Ben's Bus and travel in just one direction and then use the alternatives above for travelling in the other direction.
You can select your stop when you first make your booking with us. If you have already made the booking, you can log into your account and select your stop. Please note that we are unable to offer any advice on which stop is best for you, as you will need to decide this yourself.
Below is a map of showing our bus stops in Alpe d'Huez and underneath the map, a description of each stop. The Free Shuttle Buses operated by Alpe d'Huez stop at all of our bus stops. If you need a taxi from our stops to your chalet / hotel, try Alpexpress for a quote. Click to visit the Interactive Map of Alpe d'Huez to see how to get to your accommodation.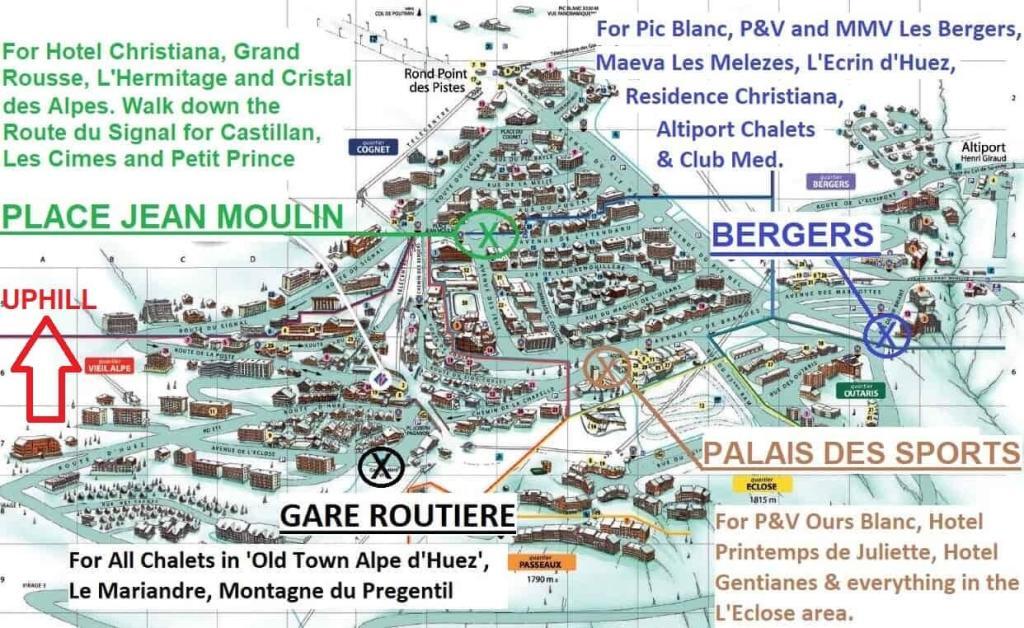 Gare Routiere: In the old part of town, just below the bakery and opposite the Bar Le QG. The road is very wide here with space for a bus to park up. See it in google maps.
For Accommodations: All Chalets in "Old Town Alpe d'Huez", Le Mariandre, Montagne du Pregentil
Palais des Sports: At the bus stop outside the main Sports Hall. Three out of the four free resort shuttles pass by here. See this stop in google maps
For Accommodations: P&V Ours Blanc, Hotel Printemps de Juliette, Hotel Gentianes & everything in the L'Eclose area.
Place Jean Moulin: At the bus stop on the roundabout in front of the Sphere Bar. Sometimes we may have to use the bus stop opposite the Residence "Cristal de l'Alpe". View it in google maps
For Accommodations: Hotel Christiana, Grand Rousse, L'Hermitage, Cristal de l'Alpe. Walk down the Route du Signal for Hotel Le Castillan, Les Cimes and Petit Prince
Bergers: Please wait directly outside the large Residence "Pierre & Vacances Les Bergers". See it in google maps
For Accommodations: Pic Blanc, P&V Les Bergers, MMV Les Bergers, Maeva Les Melezes, Franceloc L'Ecrin d'Huez, Residence Christiana (not Hotel Christiana!), and use "Citron" free shuttle bus for the Altiport Chalets & Club Med. The road up to the Altiport is uphill and can be steep in places.
What if my flight is delayed
Lyon Airport has undergone a recent expansion, resulting in much a quicker journey through passport control and baggage reclaim.
We understand that flights can be delayed and we try to be as flexible as we can be with this. Our bus will wait for you if it can. However, we need to consider our other customers and also the driver hours, which are strictly regulated by EU law.
If you do miss your transfer because you are delayed, we will always try our hardest to get you on the next bus at no extra cost. We leave more and more empty seats on our services as the day goes on for exactly this reason. Our staff will always go the extra mile for our customers and it is extremely rare that things go wrong.
Our Service
We provide a telephone number on your e-Ticket in case you need to contact us.
We always try to call our missing passengers to help them out.
We have bilingual managers to greet you at the the Airport and reps in resort to help you with your transfer.
We typically use larger vehicles which are more environmentally friendly.
We use experienced drivers who know the mountainous terrain.
We are a well established company who have been operating in the Alps for many years.
Please note that on Sundays and weekdays, our transfers to and from Lyon Airport will probably make a stop Grenoble Airport and at Bourg d'Oisans, where you may need to change over to another feeder coach. Our reps and / or drivers will help you with this and we will try and keep this inconvenience to a minimum.