HOW TO REDUCE YOUR CARBON FOOTPRINT WHEN FLYING TO YOUR SKI HOLIDAY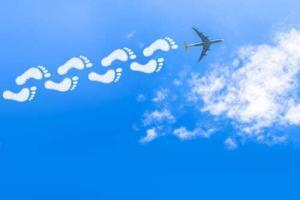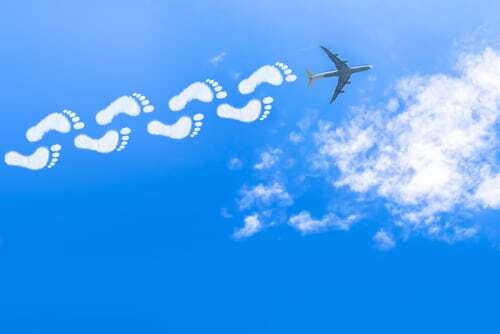 After a summer of extreme floods, heatwaves and wildfires, the issue of Climate Change has never felt so real. Sustainability has become an important part of all our lives. Many travellers are now asking "How can I reduce my carbon footprint and still fly to my ski holiday?"
Carbon offsetting initiatives such as easyJet's sustainability scheme are helpful, but they don't eliminate the CO2 emitted when flying. However, done right and over a certain distance, flying is not actually as bad as some people think. Trains and cars still use energy and electricity is not yet 100% green. The extra emissions caused by congestion if everyone were to stop taking planes needs to be considered.
TOP TIPS TO REDUCE YOUR CO2 EMISSIONS WHEN FLYING
1. TAKE DIRECT FLIGHTS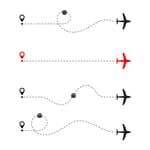 A large percentage of greenhouse gas emissions on short flights are used on take-off. There's a huge selection of direct flights to airports such as Geneva, Grenoble and Lyon, so it's hard to justify stop-over flights via places like Amsterdam or Munich.
If you can't find a flight that suits your budget / time, Skyscanner has a great function where you can click "Add Nearby Airports". You could also fly into one airport and out of another if the times / prices suit you better.
2. USE PUBLIC TRANSPORT TO GET TO THE AIRPORT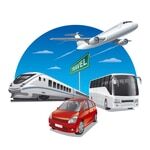 For some people, driving to the airport cannot be helped. Electric cars are great, but remember that not all electricity is green yet and your car still contributes to congestion. Consider getting a taxi to the bus / train station if you have bags / children in tow.
Most UK airports do have good public transport access. Find out how to get to your UK airport by bus or by train. It can also be cheaper when you factor in airport parking and it's a nicer way to arrive, since you're usually dropped right outside Departures.
3. USE SHARED TRANSFERS TO GET UP TO YOUR SKI RESORT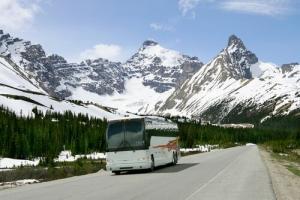 Most of the big resorts like Tignes, Val Thorens and Val d'Isere have at least one shared transfer service, public bus or train service. See a list of which ski resorts we cover.
Just one Ben's Bus can potentially replace 15-20 private transfers / hire cars on the road. On the busy weeks for ski resorts, the congestion on the access roads can sometimes result in total gridlock. This slow moving traffic caused by so many vehicles considerably increases the CO2 emissions / person.
4. HIRE SKIS IN RESORT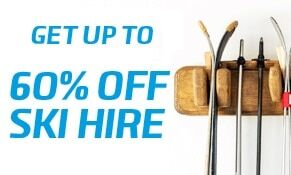 Ski hire shops have come a long way in recent years. Prices are very reasonable and probably comparable with the extra cost of bringing your skis / board on a plane. That extra weight adds a lot of CO2 onto your carbon footprint.
Most shops have a large range of modern equipment and some even deliver to your accommodation. You don't need to lug your gear to and from the airport and wait at the oversized luggage. Visit our discounted ski hire page to get a quote.
5. PACK LIGHT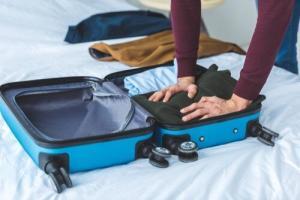 Every extra kilo in your bag means more CO2 going into the atmosphere. This article by Fly Aware explains how if everyone on a Heathrow to Frankfurt flight took 1kg less in their luggage, in 1 year they would have collectively saved 60 tonnes of Co2!! You'll also put less strain on your body, so you'll arrive fresher and fitter to enjoy your ski holiday.
Set yourself a challenge this year to see which of our top tips you can use and how many kilos you can shed:
– DON'T OVERPACK. Give more thought to what goes in your bags. Do you really need all those clothes? Potential Saving = 3kg
– LAPTOPS and chargers don't make for a relaxing holiday. Maybe your phone can do everything? Potential Saving = 2.5kg
– LIGHTWEIGHT SKI GEAR. For instance, Merino wool thermals are very light and effective. Potential Saving = 1kg
– TOWELS & LINEN. Check if your accommodation could provide or rent towels and sheets. Potential Saving = 1kg
– TOILETRIES such as shower gel and shampoo could be bought in resort and shared. Potential Saving = 0.5kg
– CO-ORDINATE with your friends so you don't bring 4 sets of hairdryers / speakers. Potential Saving = 0.5kg
– DUTY FREE. Check if your arrival airport offers a pick up service. Potential Saving = 1kg
– LOSE WEIGHT. Easier said than done! Potential Saving = ????kg
For those who aren't regular skiers, or just trying it for the first time, you could rent your ski clothes in resort. This would also save you a lot of money.
6. CHOOSE A RESORT IN EUROPE
The US and Japan are inviting, exciting destinations if you're lucky enough to afford it. Perhaps those long-haul flights could be used for a longer trip though? You could include skiing in a 3 week holiday to that country? The ICAO has developed a flight CO2 calculator. Below is a list of how much CO2 is produced for a Round trip flight from London, in economy class.
Tokyo, Japan =  774kg of CO2
Denver, Colorado, United States =  764kg of CO2
Geneva, Switzerland =  200kg of CO2
As a comparison, driving to Geneva, Switzerland = 171kg of CO2 (according to the CO2 myclimate website). This is based on a 2,000km round trip from London to Geneva in a mid-range petrol car with 4 of you in the car. This is interestingly not that much less than flying! Put a roof box on the car and it adds between 10-25% to your fuel bill, so flying becomes a carbon-efficient way of getting to the resort.
–          –          –          –          –            –          –          –          –          –            –          –          –          –          –            –          –          –