Chamrousse Airport Ski Transfers
Unfortunately we no longer run transfers to Chamrousse. However, we've listed some options for you to consider.
FROM GRENOBLE AIRPORT TO CHAMROUSSE


You could take the shuttle bus service from Grenoble Airport to Grenoble city centre and then a public bus with Transaltitude. Alternatively, you could hire a car or book a direct private taxi. We recommend a local company called Actibus. The journey is quite quick at about 1 hour 15 minutes in good conditions.
FROM LYON AIRPORT TO CHAMROUSSE


There is a regular bus from Lyon Airport to Grenoble Bus Station, from where you can take the Transaltitude public buses. A private taxi is more expensive but it is direct and a lot less hassle. A local company we recommend is Actibus. Lyon Airport is further away then Grenoble Airport so incurs more toll and petrol costs. You should allow about 2 hours in good conditions, but much more if you are travelling during the French school holidays.
CHAMROUSSE SKI RESORT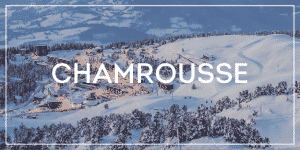 Chamrousse is a little known gem of a resort overlooking Grenoble. It is traditionally very popular with French people but has recently become popular with other Europeans, partly due to its exceptional value for money. Ski Passes cost only 160€ for the week for an adult! It's a perfect destination for families of beginners. Tour Operators generally place their customers in the Domaine de l'Arselle, which is the purpose built part of the town and has all the facilities you need, including shops, ski rental premises, bars and a couple of restaurants.
For more information about our Grenoble Airport, please visit their website at https://www.grenoble-airport.com/
For more information about Chamrousse, please visit the local tourist office website https://www.chamrousse.com/
For a good website to book accommodation, try the Tourist Office run Chamrousse Reservation website