Travel Information Saturday 17th March
Posted 16th March 2018
TRAVELLING WITH US ON SATURDAY THE 17th MARCH???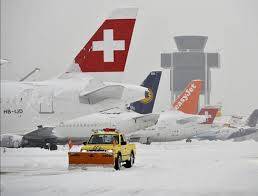 There's a mini "Beast from the East" heading towards the UK again this week-end. Is this the Russian revenge they've been talking about? Although the weather is not expected to be anywhere near as bad as 2 weeks ago, some parts of the UK will be affected and so some UK airports may experience delays. Check out the BBC weather report which says "Areas expected to be affected on Saturday in England includes the North East, North West, West Midlands, East Midlands, Yorkshire and Humber, the East of England, London and the South East." There is also some snow due in some resorts in the Alps, although the French school holidays have now finished so the traffic is not expected to be really bad.
If you are travelling on any of our services, please be prepared for the potential of a longer than usual transfer. Bring fluids and food with you and if the toilets don't happen to be working, just ask the driver to pull over at the next safe place. Bring a book / DVD player so you don't get bored and please be patient with our staff who will be doing their best. We do offer a shared service so we do have to consider the needs of other passengers.
FLYING OUT OF GRENOBLE / LYON AIRPORT BACK HOME
If you are taking our services from any resort to Grenoble, Geneva or Lyon Airports on Saturday 17th March, please ask your Lead Passenger to check their email inbox, spam and promotional folders and phones. We have contacted all people by email and text message if we have changed your bus time. If you have not received an email from us about a change, then your bus transfer remains as per your existing eTicket. If you want to be sure, you can re-send yourself your eTicket here. The new eTicket that will be sent out will show the correct bus times.
FLYING INTO GRENOBLE / LYON AIRPORT

DELAYED FLIGHTS: If your flight is delayed, please DO NOT CALL the number on your eTicket. Our team moniters flight arrival times and they try to create space on later services if your flight is delayed. Calling our team will only distract them from this important task and so would be counter-productive. As soon as you arrive at the airport, find your rep as per the instructions on your eTicket and they will update you on the situation.
CANCELLED FLIGHTS: If your flight is cancelled, please DO NOT CALL the number on your eTicket. They will be very busy dealing with customers arriving on the day.
If you have booked a new flight for later in the day to either Grenoble, Lyon or Geneva Airport, please find the Ben's Bus Rep in Arrivals once you land and if they can get you on a bus, they will.
If you have booked a new flight on a different day, then please email the following information to the correct email address below:
Your Ben's Bus Booking Reference Number (located in your eTicket email)
New Arrival Date
Airline
From which airport are you flying in from?
What time do you land at Grenoble / Lyon
lyonairport@bensbus.co.uk if your booking was to Lyon Airport
oisans@bensbus.co.uk if your booking was from Grenoble Airport to Alpe d'Huez, Les Deux Alpes, Rochetaillee, Serre Chevalier or Bourg d'Oisans
tarentaise@bensbus.co.uk if your booking was from Grenoble Airport to any other resort
We will do our best to get you on a service on your travel date and we will reply to your email. Thank you for being patient after you have sent your email as we may not be able to reply immediately.
Please note that although we will do all of the above for you and we will do it for free, we are under no obligation to provide you with alternative transport if your flight is late, diverted or cancelled. There is no guarantee that we will be able to offer you seats on later services. To see our Conditions of Sale, please visit this page of our website. We would advise that you check your travel insurance cover in advance of your holiday.
Many thanks for your understanding and Good Luck!
The Ben's Bus Team
–          –          –          –          –            –          –          –          –          –            –          –          –          –          –            –          –          –