Posted 8th July 2020
PRICE FREEZE/ REDUCTION FOR THE 2020 / 2021 SKI SEASON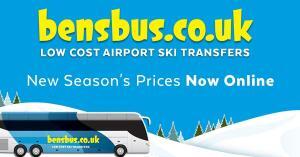 Our prices and dates of operation for our transfers from Geneva Airport, Grenoble Airport and Lyon Airport for the upcoming season are now online. We've frozen nearly all our transfer prices and reduced quite a few of them too. For instance, a Single from Geneva Airport now costs just £48.50 instead of £51.50! On top of that, you will still be able to make use of our Group Discounts and we've extended our Child discounts to our Geneva operations.
See a full list of our 2020 / 2021 Prices here.
Although our systems are not yet available to take bookings, as we have not yet finalised our timetable, you can now see which dates we will operate on which routes. To find out more about the service that interests you, click on your airport below and then select the resort you are heading too. We'll update everyone by facebook and by Mailshot as soon as our tickets are on sale, which should be around mid July.
 –          –          –          –          –            –          –          –          –          –            –          –          –          –          –            –          –          –