Posted 9th May 2018
BEN'S BUS RAISES ALMOST £2, 000 FOR CHARITY!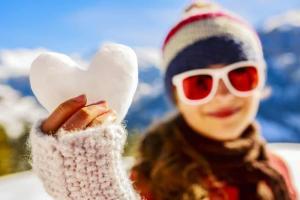 We're delighted to announce that for the 2017 / 2018 ski season, Ben's Bus and our lovely customers managed to generate a brilliant £1, 978.50 towards good causes. That's an increase of almost 30% from last year!
When customers book any ski transfer with us, they have the option of adding a 25p charitable donation to their booking. Ben's Bus then matches that 25p. We've just downloaded our reports for the year and a MASSIVE THANK YOU goes out to all our customers who selected to give to charity. Together you raised £989.25. True to our word, we've matched that £989.25, giving us a total of £1, 978.50 to distribute to our chosen charities.
WHERE DOES THE MONEY GO?
Here's a breakdown of where the money was spent and what it gets us.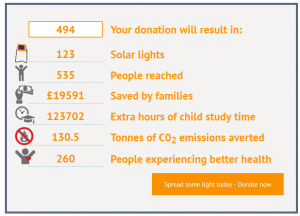 SolarAid is a charity committed to helping African villages use their natural, renewable resources to better their lives whilst making minimal impact on the environment. So your donation will help bring your carbon footprint down further! We gave them £494.62. They have a cool calculator which shows what this money does and to the right you will see the screenshot:
WaterAid is a charity with initiatives in over 37 countries around the world, helping to deliver clean water and sanitation to the most vulnerable. We gave them £494.62.
Shelter is a UK homelessness organisation. We gave them £494.62

The British Ski & Snowboard National Foundation hopes to raise the profile of skiing in Great Britain whilst helping to fund UK up-and-coming starlets. The success of this foundation can already be seen by the fantastic results at the PyeongChang Winter Olympics. We gave the BSSNF £494.62

To view more details about our Charitable Ethos, please visit our Charity and Environment page.
Once again, a massive thank you to all our customers and an especially big thank you to those who've donated. We are sure our chosen charities pass on their sincere thanks to you too. Hopefully next year we can generate even more money for good causes. Have a fantastic summer, and we'll see you again in the snow next ski season.
–          –          –          –          –            –          –          –          –          –            –          –          –          –          –            –