Posted 18th November 2017
THE WINTER OLYMPICS AND SUPPORTING THE BRITISH SNOWSPORTS FUND
In anticipation of the upcoming Winter Olympics, which Ben's Bus is getting very excited about, we thought we'd bring you an update on where some of our charitable donations go and how you can donate directly.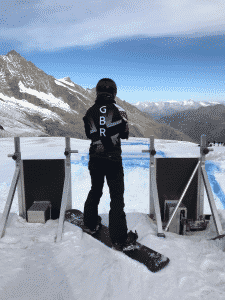 We're proud to have been working with the British Snowsports Fund for more than a year to help support the UK's future snowsports Olympians. As a partner of the Fund, the money we raise through our customer donations and the Ben's Bus donations goes straight to helping athletes through their careers – from those getting ready for the Olympics to young snowsports athletes coming up through talent pathways. In September 2017, the Fund awarded its first grants to 4 promising talents, including 20 year-old snowboard cross athlete Maisie Potter (pictured).
Of receiving her BSF grant, Maisie, from Bangor in North Wales, says, "this reward has really given me extra motivation, knowing that that my federation are behind me and believe in my ability." As the Olympics approach and the UK is getting behind its snowsports athletes, you can find out more about BSF and how you can donate here!
 –          –          –          –          –            –          –          –          –          –            –          –          –          –          –            –          –          –